Children's Computers
The Library has two computers specifically for children in the Juvenile area of the library. Both contain a wealth of fun and educational games.
Designed specifically for our youngest patrons, the Early Literacy Station computer features simple games and creative programs. It has no access to the internet.
The second system features Magic Desktop educational software, loaded with fun programs and games for all ages. For added online safety, this program ensures that children can only access websites that are vetted by Library Staff and deemed as appropriate.
---
Online Library Resources
You can use your library card to access any of the resources listed below!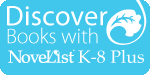 NoveList K-8 Plus
Created especially for children and the adults who work with them, NoveList K-8 Plus is an online database of reading recommendations which encourages reader success. Featuring an easy-to-use interface, kids can use NoveList K-8 Plus to find just the right books for their reading levels and interests, while parents, teachers and librarians can use it to find valuable teaching resources that will engage young readers.
---

World Book Activity Corner
Activity Corner offers thousands of projects suitable for a wide range of skill levels, ages, and instructional goals.
---
World Book Early World of Learning
A wealth of resources to help preschoolers and children in the early grades grasp critical early childhood themes.
---
World Book Info Finder
Designed for school-aged patrons' homework and research needs with thousands of articles and a robust collection of research tools.
---
World Book Kids
Engaging content, features, and tools developed especially for young users.
Children's Book
Nuttah & Kitchi: Project Protect Our People, Stay Healthy Stay Safe
Written by Sandra Samatte & Illustrations by Julian Grafenauer.
A 2020 GoodMinds.com Production.
Please be patient as the story will take a few minutes to load. Adjust the Automatic Zoom setting at the top of the page to Page Fit to see the whole story on the page.