Resource Guide
Use this guide to quickly link to the information you need.
---
Temporary Province-Wide Shutdown / Roadmap to Reopen

UPDATE: June 11th, 2021:
The library remains closed to the public until Step 2 of the Provincial Roadmap to Reopen (currently scheduled for July 2nd, 2021).


April 1st, 2021
The Provincial Government announced a temporary shutdown for all of Ontario beginning April 3rd at 12:01 am. The library is currently closed to the public, but virtual services and Porch Pick-up are available.
See our Library News and Updates page for more details.
---
29 Themed Packs to choose from!

· 80's Nostalgia
· A Royal Binge
· Aged to Perfection
· Animal Friends
· Another True Story, Bro
· Care For a Scare?
· Comedians 1
· Comedians 2
· Comedy Fest
· Cruise Night
· Disney Animation
· Double the Fun
· Family Fantasy
· Go Ahead, Make My Binge

· It's All Political
· Just the Facts
· Kelly & Sinatra
· Kills & Thrills
· King Collection
· Lies, Spies and Disguises
· Musical Interlude
· Officer's Club
· Rom-Com Romp
· Sci-Fi Feast
· Scorcese Crazy
· Survival Mode
· Treasure Hunters
· True Story Bro
Check out Movie Marathon Packs in our Online Catalogue to see which movies are included and reserve your favourite!
---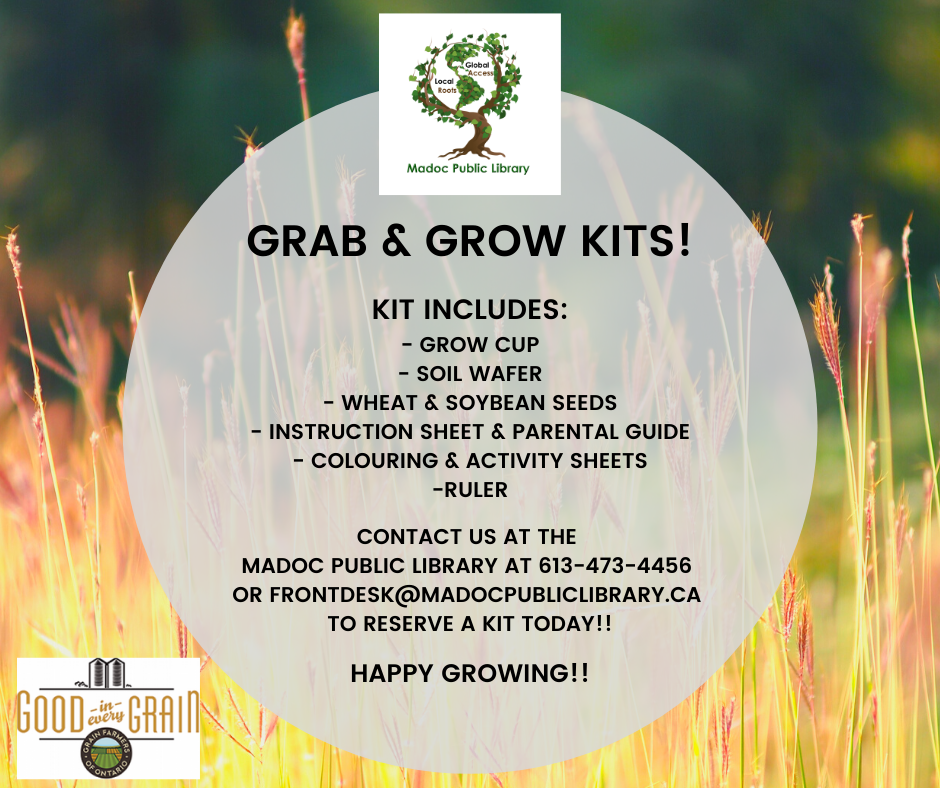 We are excited to offer our Grab & Grow kits courtesy of Good in Every Grain!
Every free seed kit contains a cup, wheat and soybean seeds, a soil wafer, instruction sheet, parental guide, activity sheets, a ruler, and additional learning materials about Ontario grains.
Contact us at 613-473-4456 to arrange a pick up time.
Happy Growing!
---
---